Joanie's New CDs
Shanah Tovah, Shanah M'tukah
a cycle of songs for the Jewish year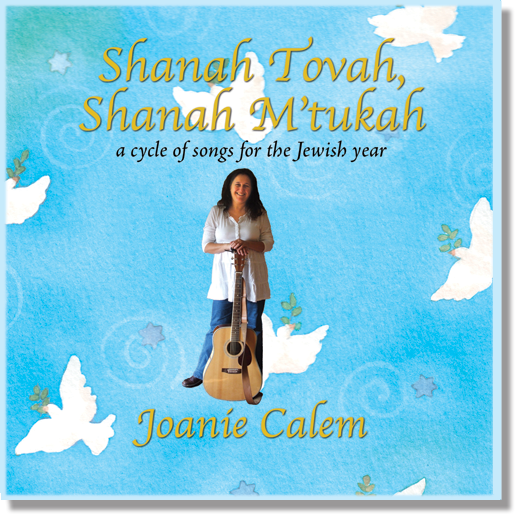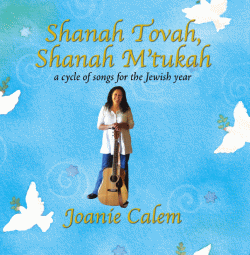 The title of Joanie's second CD is Hebrew for "Have a good, sweet year!" It is a 32-track treasure trove of songs for every holiday of the Jewish year, starting with Rosh HaShanah, the Jewish New Year, in the autumn. There are twelve favorite Israeli holiday songs, which Joanie sings in Hebrew and English, telling the stories of the holidays and the customs that accompany them, twelve of Joanie's fun originals, and eight traditional folk songs.
Joanie is joined on the CD by her daughter Tenara on vocals and violin. With this new CD, the whole family will be singing and dancing throughout the year.
CD's are $15 and can be ordered by email from jcalem@columbus.rr.com
Also available from: CD Baby & Oy Songs
Free Downloads for Shanah Tova, Shanah M'tukah CD
Requires the Adobe Acrobat Reader click to download
---
Joanie's first CD is still available!

Joanie's first CD includes 19 tracks, taking a musical trip through the four seasons of the year. Twelve of the CD's songs are original; seven are traditional folk songs with new lyrics. All the songs have been "kid-tested" with children from ages 6 months to 8 years. The songs encourage children to dance and pretend, turning themselves into various animals and experiencing nature's changes. The CD is a solo effort, with Joanie accompanying herself on guitar, xylophone, and percussion instruments.
CDs are $10, and are available by mail from Joanie Calem, 4890 Sharon Ave., Columbus, OH 43214; E-mail: jcalem@columbus.rr.com
Also available from: CD Baby @ http://www.cdbaby.com/cd/joaniecalem